Hi! I'm Judi Nelson, and I am so glad you've made your way to my website. Since you've made it this far, you've probably noticed that Balanced Physical Therapy is not your "normal" Physical Therapy practice. This is definitely a reflection of the owner.
I never quite fit in in physical therapy school. My classmates did their research projects on "Gait Analysis in the Geriatric Population post Total Hip Arthroplasty" I did mine on "Chi and Energy Healing." Though I got good grades and learned a ton about the anatomy and physiology of the human body, I always had the vague feeling that there was some crucial element missing from my education.
When I got out of school and started working in hospitals and nursing homes, I always felt I couldn't really be myself at work. I had to be "the Therapist" with all the answers. Physical Therapy, I had been taught, involved memorizing "recipes" for how to treat every different diagnosis someone might need help for. These recipes had been tested by SCIENCE, and determined to be the RIGHT way to treat each particular problem. Often though, someone wouldn't respond well to the recipe, and I would be left feeling frustrated that there was nothing else I could do. This happened with at least 80% of the people coming in because they had chronic pain.
In 1999, two Wonderful things happened to me:
some fellow therapists introduced me to the technique of Myofascial Release
I Got Laid Off from the Hospital
Which allowed me, once I had learned more about Myofascial Release, to open a physical therapy clinic that could really help people suffering with chronic pain. Since then, I've learned so much more about the workings of the body and how it integrates with the mind, emotions and spirit, from formal training, and from each of my patients. There's been such a demand for these services that Balanced Physical Therapy has grown into what you see reflected in this website.
Since 2001, I have been honored to be a teaching assistant for John F. Barnes PT in his Myofascial Release Seminars in the US and abroad. This wonderful healing technique has helped me cure my own low back pain, severe menstrual cramps and chronic headaches. John is a master teacher, and I am grateful for all I have learned from him.
In 2006, I completed the Polestar Pilates for Rehabilitation Certification Program-one of the most comprehensive Pilates training programs in the world. I have found that Myofascial Release and Pilates is an extremely powerful combination for healing pain and teaching people to love their bodies.
It gives me such pleasure to see our patients getting their lives back from chronic pain. It feels good to see people creating a loving relationship with their bodies, which reflects outward in all that they do. I know that this is my purpose in life.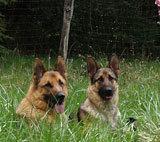 When I'm not at Balanced Physical Therapy, I'm with my husband, Walter, and my two German Shepherd Dogs out on our organic fruit farm. I love being connected with nature on our very rural land-(we just got addresses in 2006, and forget about any kind of phone service) In the summer, I swim in the South Fork of the Trinity River almost every day.
Please keep reading to find out how we use Physical Therapy, Massage, Myofascial Release and Pilates to help you relieve your pain and suffering.